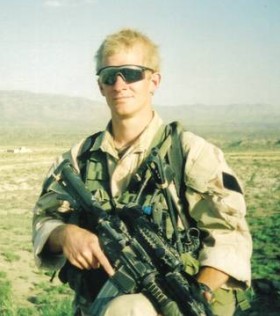 In 2005, while on a combat operation in Iraq, I was landing on a building via a small helicopter. I was sitting on the outside of the helicopter when it crashed. The top blade cut my right foot a few times leaving me with a below-knee amputation. It also cut my left foot, severely crushing the foot. I was then thrown against a wall, stopping my body.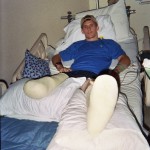 The end result of it all was a severely crushed foot—which I was told I would never walk on again— and a compound femur fracture which damaged my peripheral nerves in the leg I still had. My lungs were collapsed, I had sustained some back damage, my chest hurt like hell, and I suffered a traumatic head injury. The injuries to my foot left me unable to move it from all of the nerve damage. With a lot of work and surgery, I have it functioning well now.
All that said, afterwards I still wanted to go back to my team, which was part of special operations. After a while however, I decided that due my TBI and injured foot, it was best not to. I then retired, but as you can imagine and relate, I still have the need the need for adrenaline and especially for personal challenges.
Normally our #FeelGoodFriday's consist of heartwarming and inspirational videos. This Friday we're feeling good about having known and been greatly inspired by US Army 1st class retired Matthew Nyman. Today, February 19, 2020, we honor him.
During a time with so much loss and uncertainty, we truly do not have the words to heal the sadness in the hearts of Kris and the boys. If you want to read more about Matt or feel that you might like to support his widow and children, please check out the Matt Nyman Memorial Fund (https://www.gofundme.com/f/matt-nyman-memorial-fund). There will also be a live stream of his memorial tomorrow if you would like to attend. Services begin at 11:00am PST streaming on https://bxcited.com/matthewnyman/
US ARMY 1st Class retired Matthew Nyman ….You will be missed dearly...