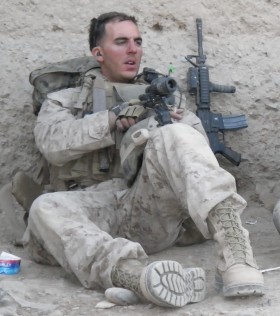 A Gold-Star in lieu of Second Award Purple Heart recipient, Staff Sergeant Zambon was born in Marquette Michigan on November 3, 1984. He graduated from Marquette Senior High School in May of 2003 and shipped off to Marine Corps Recruit Training in San Diego in June 2003.
After completion of boot camp, PFC Zambon attended Marine Combat Training at the Camp Pendleton School of Infantry and then the basic supply stock school in Camp Johnson, NC. PFC Zambon received orders to 1st Combat Engineer Battalion and deployed in support of Operation Iraqi Freedom II in February 2004. LCpl Zambon extended his deployment to thirteen months and when he returned to the United States, sought orders to become an Explosive Ordnance Disposal (EOD) technician.
LCpl Zambon reported to Naval School Explosive Ordnance Disposal in Eglin AFB, FL in July 2005, promoted to Corporal in September and graduated the following spring with orders to 1st EOD Company at Camp Pendleton, CA. There Cpl Zambon was subsequently promoted over time to Sergeant then Staff Sergeant and completed deployments in support of Operations Iraqi Freedom from March-October 2007, Operation Enduring Freedom from April-October 2008, and March-May 2010. In May of 2010 SSgt Zambon sustained traumatic amputations to three distal joints of his left hand. A quick recovery was made and SSgt Zambon returned to full duty in a month and a half and jumped on the training cycle to relieve the Marines he had deployed with in March of 2010. SSgt Zambon deployed again in October 2010, this time in direct support of I Co, 3rd Bn 5th Marines in Sangin, Afghanistan.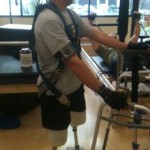 The team he trained and led hit the ground running and executed expert EOD support for the company, safing and disposing of over fifty IED's and numerous other support missions; saving Marines lives and limbs and allowing I Co 3/5 freedom of movement throughout their battle space. In January of 2011 while moving dismounted in response to a explosive device through a heavily IED laden urban area in Sangin, SSgt Zambon was struck with an IED with a ten pound explosive main charge.
The blast explosively amputated SSgt Zambon's legs above the knees and is currently undergoing a full Comprehensive Combat and Complex Casualty Care (C5) rehabilitation program at Naval Medical Center San Diego. This program addresses every area of healing in the mind, body and spirit and for SSgt Zambon encompasses physical, occupational and recreational therapy, vestibular/balance clinic, prosthetic mastery, neuropsychology, orthopedic care, dietetics and Ear Nose and Throat (ENT). The loss of one's legs is a very serious reduction in an individual's ability to affect physical action. Doubts and questions arise in a recovery as simple as "Will I be able to ever climb that hill and check out that lean-to?" With the opportunity Tim and The Heroes Project provide it knocks that question out the park. Climb a hill? How about one of the Seven Summits of the World. A golden opportunity to triumph and to make life changing meaning through conquering a peak and an injury!
Let's Climb!