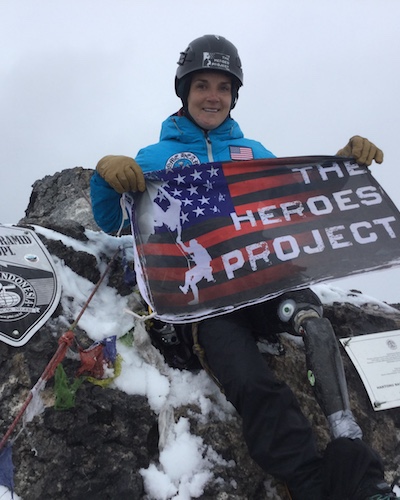 Kirstie Ennis joined the Marine Corps at 17 years old in Pensacola, Florida. Over the six years she served, she performed duties as a helicopter door gunner and airframes mechanic on the CH-53 platforms.
On June 23, 2012, during her last deployment to Afghanistan, her helicopter went down while performing combat resupplies to FOB Now Zad. As a result of the crash she sustained various injuries that include: an above the knee amputation on her left leg (most recent revision on December 23, 2015 from below-knee to above-knee), full thickness facial trauma, traumatic brain injury, cervical and lumbar spine trauma, and bilateral shoulder damage.
She medically retired out of the Marine Corps as a Sergeant in May 2014. She has earned her Masters in Psychology, and is in her last semester for her Masters in Business Administration.
On July 25th, 2017 at 3:00 PM WIT, after a 12 hour summit push, Kirstie Ennis became the first female US veteran above the knee amputee to summit Carstensz Pyramid.