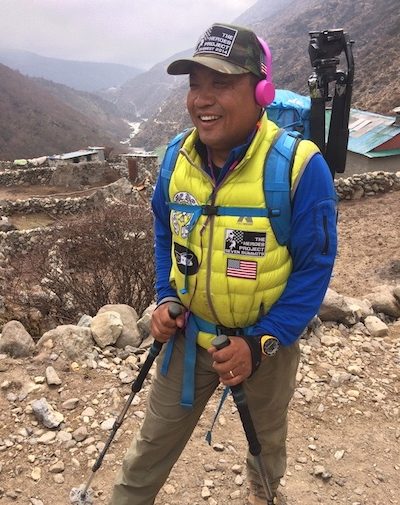 Gyalbu Sherpa was born in the Rolwaling area in the Himalayas of Nepal in the year… well, we don't know what year Gyalbu Sherpa was born in because they didn't keep those kinds of records in the high villages of the Himalayas. And yes, Sherpa is his last name, along with 90% of the other people who are born in Rolwaling. Not only is it his name, it was his occupation. An occupation anyone can be proud of – an occupation that the first- born son will historically pursue.
Gyalbu's father was a Sherpa, and his grandfather was a Sherpa, and so on and so on.
Of his five Everest summits, three were on the Nepalese Southeast Ridge and the other two were on the Tibetan North ridge. He summited K2 just days after his fourth Everest summit, in 1997 to be part of a very exclusive club of just under 300 people in the world who have stood on that summit. He likes being a Sherpa because he values hard work and enjoys helping people.
Gyalbu left the mountaineering world in the Himalayas to make a better life for his children, and has been working in the United States for the past 14 years. His two sons and daughter are now all in college.
When the founder of The Heroes Project, Tim Wayne Medvetz, signed up to climb Mount Everest in 2002, the first thing he did was search for a Sherpa in Los Angeles who could give him some advice on what it takes to summit Mt Everest. That's how he met Gyalbu, and they have been friends and climbing together ever since.
So when The Heroes Project was born it was a no brainer to bring Gyalbu on board as The Heroes Projects Climbing Sirdar (Sherpa Mountain Guide). Gyalbu says it's his way of giving back to America for everything this country has done for his family.
On Saturday, January 23rd, THP lost a much loved and respected family member. Gyalbu Sherpa, our climbing sirdar, passed away peacefully surrounded by his family after receiving Nyingma blessings from his homeland.
For those of you who were lucky enough to meet Gyalbu at one of our events (or in the mountains during one of our training sessions), you probably remember his smile and the way it took up his whole face. Maybe he made an impact on you because he was jovial and kind and exuded a peaceful calmness that seems to elude us here in the western world. Perhaps you were surprised by his strength and determination as he carried all of our gear to the summit of Mt. Baldy for every single Climb for Heroes…… at 4 am…..faster than any one of our Fastest Badass competitors could ever dream of climbing that mountain. It could be that you were touched by his overt love and endearing care for his wife, Ngami, and his complete devotion to his children, Pasang, Pemba and Tsering. Or maybe, Gyalbu did for you what he did for us and our whole team at THP. He was our constant, our safety, part of our history, and was always included in our future. He was as much on a mountain as he was part of each mountain itself. Gyalbu was OUR Sherpa and we will miss him immensely.