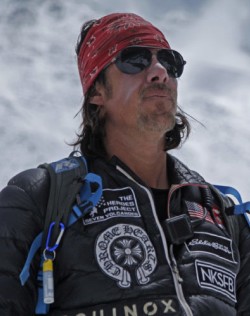 Tim Medvetz is the Founder and President of The Heroes Project.
He oversees all of The Heroes Project's activities and maintains direct involvement with all of our injured community involved. Medvetz handles all logistics that are entailed in making the Heroes Project expeditions successful, and is our lead mountain guide on all expeditions.
Prior to founding The Heroes Project, Tim was the featured climber on the hit Discovery Channel series Everest Beyond The Limits for two seasons, as well as a four part series titled After The Climb. Before he embarked on his climbing endeavors he had a successful career selling and building custom motorcycles in Los Angeles, California.
Medvetz is a certified scuba-diver, skydiver, hang glider, and well-trained in Muay Thai boxing and Brazilian Gracie jiu-jitsu. He holds an NOLS Wilderness First-Aid certification and a Leave No Trace Principles Trainer Certificate. With three successful summits of Mount Everest under his belt, he is prepared for anything life has to throw at him. Medvetz has spoken at numerous corporate seminars as an inspirational adventure speaker. Born in the great state of New Jersey, he now currently resides in Los Angeles, California.