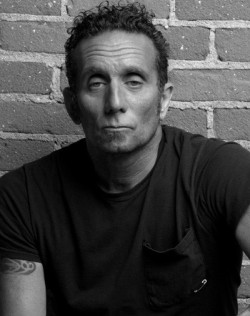 With a philosophy that often takes him in the opposite direction to where everyone else is going, Richard Stark's singular vision is the tapestry behind Chrome Hearts. Starting out as an apprentice to a woodworker and a craftsman in a leather tannery, Richard could never find the exact quality leather motorcycle riding-gear he and his friend sought after, so in 1985, Richard began making them himself. Spawned by his passion and appreciation of the lifestyle, his designs quickly became the ultimate badge of credibility among motorcycle enthusiasts and musicians alike. Since then, Richard has nurtured this style and evolved Chrome Hearts into a global luxury label that optimizes his own maverick spirit.
A simple credo steers Richard's purpose – just the creation and production of furniture, accessories and clothing. At a time when designers are often their own best spokesperson, he shirks this stardom and distances himself from the industry's expectations, rarely being photographed or interviewed by the press. Instead, Richard places his focus on the intensive design process – each piece becoming an extension of his unique creative intention. This elusive sense of mystery has only intrigued editors and customers alike, adding cachet to the international arbiter of style.
Despite his anti-establishment stance, Richard has garnered many notable achievements including CFDA Accessory Designer of the Year Award, a recognition for which he was not familiar with when bestowed. Unfazed by his own gravity in the design world, Richard's creations continue to taunt the opposing principles of classicism and rebellion quietly revolutionizing the industry that claims him as a member.