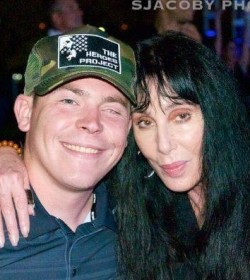 Cher is a singer, songwriter, actor, record producer, film producer, fashion designer, dancer, author and mother whose career has spanned nearly five decades and garnered her an Academy Award, an Emmy Award, a Grammy Award and three Golden Globe Awards. Cher is also an advocate, activist and philanthropist who has contributed her time, voice and resources to support several important causes through the Cher Charitable Foundation, which is dedicated to supporting and giving voice to disenfranchised populations.
Cher has been a vocal supporter of American soldiers and returning veterans. She has contributed to Operation Helmet, an organization that provides free helmet upgrade kits to troops in Iraq and Afghanistan. Cher has also supported the Intrepid Fallen Heroes Fund which serves military personnel who have been catastrophically disabled in operations in Iraq and Afghanistan, and those severely injured in other operations. Most recently, Cher and her foundation has helped The Heroes Project with her long time friend Tim Medvetz, an organization dedicated to supporting and empowering veterans and wounded warriors through direct service, community support, and advocacy efforts.
For the last three years, Cher has been the primary supporter of the Shikamana School in Ukunda, Kenya. Shikamana provides nutritious food, medical care and education for more than 300 orphans and vulnerable children, ages 2 to 13 years. Cher's support has enabled the school to acquire land and build a permanent school house to provide quality and sufficient facilities for the student body. Cher has also supported the development of an extracurricular program for the school to ensure the students have access to comprehensive arts education and service opportunities to provide a comprehensive and well-rounded educational experience. This passion for arts education is one Cher has pursue through investments around the world, including Asia, Africa and North America.